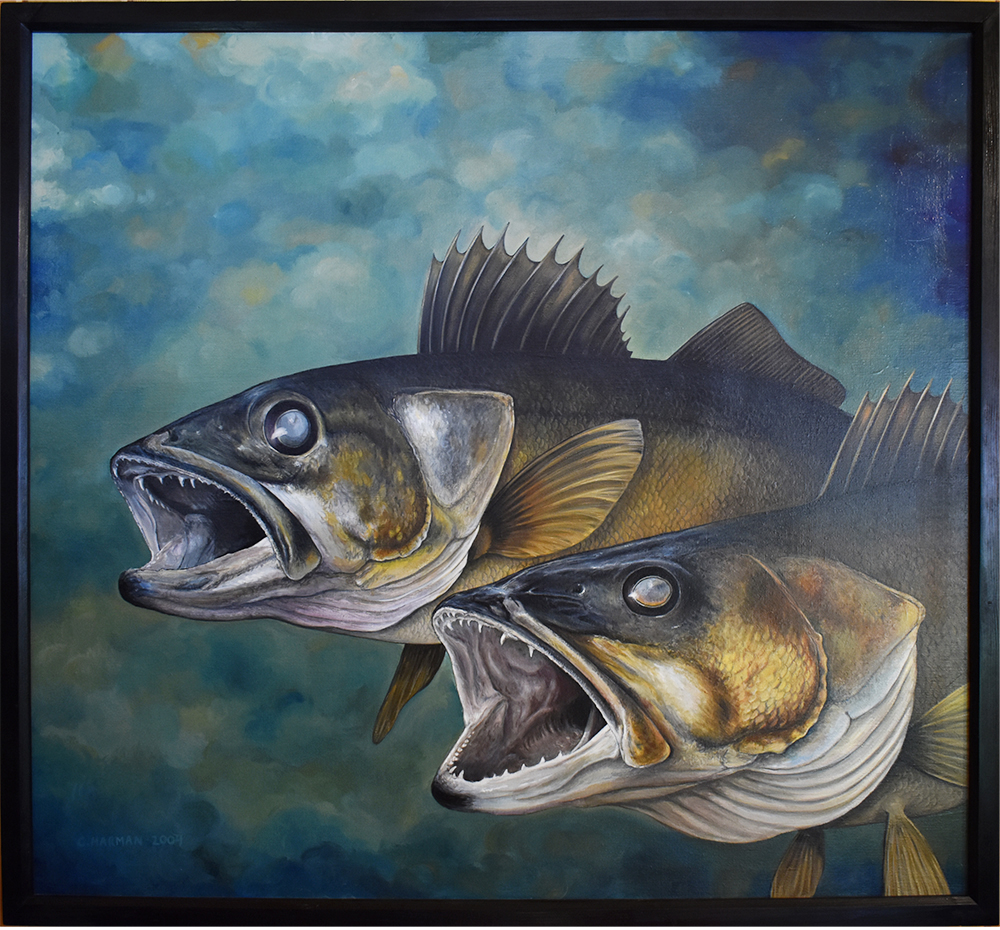 All About Walleye - Fish Facts
"Walleye Fish Facts" by Gina Harman

Delicious Walleye
Welcome to the life of a Walleye fish and what a species it is. Here we discuss habitat, lifespan, and walleye facts for fun. The amazing walleye is a delicacy in all of Northern United States. My Grandmother Margaret Cook (Ojibway Tribe) would bring out fresh walleye and fry some up for dinner. It was so delicious; I remember it like it was yesterday. She lived in Gladstone, MI - to many, this is the Walleye Capital of the US. It is located on Bay de Noc in Michigan's Upper Peninsula. This fish is flaky, delicate and most desirable to eat.

Artist Description and My Memories
Walleyes are generally a greenish olive color with splashes of gold throughout its sides. There are darker striations that reach downward five times along the sides of the fish. Their bellies are off-white to white and their dorsal fins are very spiny! The mouth of the Walleye is large and their teeth - whew, super sharp. Where I grew up in Escanaba, MI, people loved fishing Bay de Noc and it was really a Blessing to grow up near Lake Michigan. I have many friends that go fishing on a daily and weekly basis for fresh fish such as walleye, perch, brown trout, whitefish, just to name a few.

Sizes
The walleye fish species can grow over 30 inches long and up to 20 pounds. The largest walleye ever caught was 42 inches long and weighed an enormous 29 pounds! The oldest recorded walleye on record is 29 years old. The average size for a walleye is 10 to 20 inches in length. As they grow, their weight follows suit, and they can be pretty beefy.

Fishing
Walleyes often feed at dusk and dawn; they love to come to the shallower waters to find their dinner. Fishermen have also found a lot of luck on cloudy or overcast days - but dusk and dawn reign supreme. Walleyes find their competitive edge during lower light times and take full advantage of it. Walleyes also love to be active during times of "rough waters"...they call it Walleye Chop. Live bait is also most effective or lures that mimic live bait. They are also pretty feisty to fish!

Fun Facts
Female Walleyes can lay over 1/2 million eggs at a time.

Walleyes are found in Canada and Northern United State

Walleyes are a Mid-West delicacy.

Lake Mille Lacs in Minnesota has a huge statue of a walleye.

Walleyes can live up to 29 years old.
Own the Ultimate Collection
Velvet Green Creations
Chris & Gina Harman
13335 State Highway M123
Newberry, MI 49868

Copyright © 2023 Velvet Green Creations. Logos, web content in part or in whole may not be used without written consent. All rights reserved.